Beaches with tsunami warnings? Check! Building with furniture hanging off  of it? Check and check! Kids texting with post its? Check and double check! Homeless people encamping at City Hall? Check, check and check!
There's nothing quite like going to the beach and seeing an "in case of tsunami" warning by the steps leading down, down, down! Go to Cowell Ranch Beach (south of Half Moon Bay) and that is what you'll see. Sure, it's a beautiful beach with lovely views but why dig steps down a steep cliff to create beach access in what is a potential tsunami zone? Crazy!
Then over in San Francisco, South of Market Street Area (SOMA), there is this, a building fitted out with sculptural installations called "Fenestration." I love the arm-chair on the roof. My imagination takes me to nightly happenings with ghosts fighting over who gets to take a ride in it and the red chair too. Can't you picture the famous (infamous?) Bay Area fog rolling in and completing this picture? Wooooooooooooooo.
Recently, there were the kids sending "text messages" across buildings to one another and playing hang-man too, with posts-its. I especially like this post-it building message, "Leland Yee is my uncle."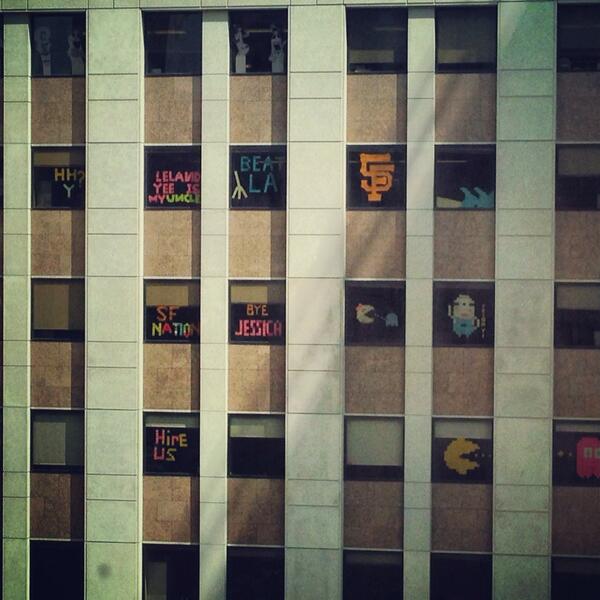 The last time I was over by City Hall in San Francisco was when I was waiting with the Quiet Lightning guys for Chicken John's bus. There we were, congregating on the sidewalk, when a homeless lady came up to us and said, "I'd like to get by but you are blocking the sidewalk. Shame on you!" The homeless in this area are a bit colorful, to say the least.
And finally, here is a draft of my poem about the Fenestration sculpture/building. I wrote it for my Kearny Street Workshop class about the area South of Market Street.
Escapees
Out the windows
down the walls
atop roof
mid-air, they wait.
Decaying, distorted
levitating above graffiti
by sidewalks busy with
homeless denizens
Together they hang,
numb, waiting.
When darkness comes,
green couches, orange tables and chairs
join with grandfather clocks
and set themselves loose
from windowsills and roof
take flight from walls
into the night.
Along skies they walk
upon foggy air
toward water they fly
on darkened wings
free of Howard and Sixth
and fenestration.